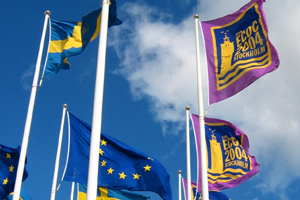 Conference profile
Assignment: Profiling design for the European Conference on Optical Communication ECOC
Delivered: Logotype and overall design, illustration and type, broadcasting profile, artwork for all printed matter, signs, give-aways, programmes, invitations, flags, post cards, stationery, table flags, even mini schnapps bottle labels.
Arranged by world renowned optical giant Ericsson and Kista Photonics Research Center (KPRC), Sweden hosted the conference at Stockholmsmässan in Stockholm. Sweden had a big booth at the exhibition. Thanks to 3D visualisation, the contributors could see what the booth would look like in advance and discuss the architecture. One of the challenges was to make a dynamic pre-printed cover for different papers to be included and bound. The covers had to be printed before we knew how many pages they'd end up with. I came up with a simple yet clever solution. This annual conference travels around Europe, 2012: Amsterdam, 2013: London, 2014: Cannes.